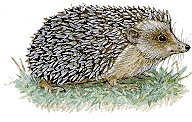 Everyone can subscribe to Hedgie's Home Page.
Just type your email address in the box below and click on the Subscribe button.
I'll send you an email letter whenever new activities and projects are added.
If you are under the age of 13 please use your teacher's, librarian's, or parent's email address.